Mylapore Festival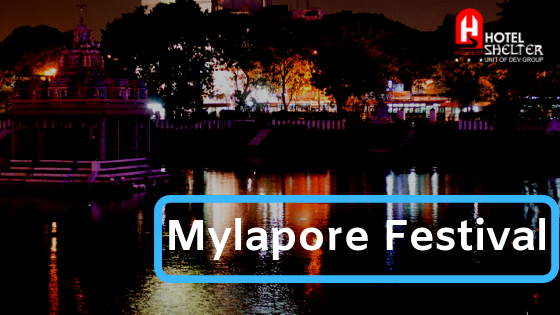 Mylapore Festival is a carnival jointly conducted by publishers of "Mylapore times" - a complimentary weekly magazine and Sundaram Finance Company, every year.
The inauguration of this festival occurred in the year 2005 and it has been carried out successfully for the past 14 years. This year, Mylapore Festival was started on January 4th and conducted for 4 days till January 7th.This celebration will be habitually held in the Mylapore Kapaleeswarar Temple, Temple Pond, Chariot place and in the Gallery streets encircling the temple.
This year, traditional programs like Rangoli competition, music shows, Folk dance and Classical Dance performances, traditional games like Thaayakkattam, Pallanguzhi, Training workshops for children, Music sing-along for kids at Nageshwara Rao park have been taken place.
More than 30 art shows have been conducted during the festival this year, in which 200 artists have participated. Not required to notify the Chennai people. They've toured as family. This blog is also for people who reside abroad. You will surely provide feedback/comments about this.
History
Mylapore which you observe today is a city that formed during the time of 16th or 17th Century B.C. Previous Mylapore gained name like a shore village of the bay of bengal in a place near Santhome Church. Researchers consider that there was a Jain school.
It's surmised that Jain saint, Naminaathar's figure was established here. Avirodhi aazhwar alias Jain Naminaathar had composed a book named, Thirunootru Andhaathi. Jain books like Thirukalambakam, Mylapore paththupadhikam, Mylapore Naminaathaswamy pathikam are also associated with this.
Geochemist, Astronomer and Astrologer, Mr. Thalami alias Claudius Ptolemaeus, had mentioned this place in his book as "Mylarphon". He also registered Mylapore as a place, which also got the importance of natural resources.
This village served as a significant harbor during the Pallava dynasty. An Inscription which belongs to 1250 A.C shares proof of the existence of Shiva temple in ancient period shore village, Mylapore. Portuguese had destroyed that temple. The Kapaleeswarar temple which we witness today might be built during the 16th or 17th Century.