All you can do at Mylapore in 24 hours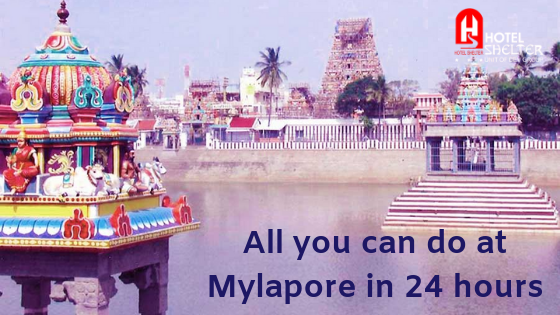 Mylapore is very much known for its rich culture. It has a prolonged history of more than 1,500 years. Due to its classical inheritance, Mylapore has scope for major touristy adventures. From temple-hopping to relishing the best of South Indian delights, here are the things you can do within a day.
Madras Coffee House
Touted as one of the 'best coffee experiences', Madras Coffee House offers authentic South Indian filter coffee without any pretentions. With your cup of brew, feast on traditional snacks like vada and samosa. Also, take a bag of freshly ground beans home to enjoy later!
Kapaleeswarar Temple
The Kapaleeswarar Temple in Mylapore is a recognizable relic. We can call it as an architectural marvel and Chennai's medieval skyscraper. Kapaleeswarar Temple reflects a vibrant culture and brings hundreds of devotees every day.
Shopping at Luz Corner
Luz corner in Mylapore is one of Chennai's renowned shopping communities. You could see copious shops and showrooms selling electronics to textiles. Most of the boutiques are notable solely for selling trendy Kancheevaram silk sarees and Old Books.
Santhome Church
Santhome Church is another milestone in Mylapore for heritage, historical importance, and grandeur. It's built by the Portuguese in the 16th-century. The exquisitely created structure boasts a majestic all-white facade.
Carnatic Cutchery
Mylapore is the center of Carnatic music culture and tradition. The area is surrounded by Sabhas, which regularly organizes Carnatic music cutcheries. And in the months of December and January (Madras Music Season), these Sabhas play concerts. Music Academy on TTK Road, Narada Gana Sabha and the Kapaleeswarar Temple are the important venus for the Carnatic music concert.
'Full Meals' at a Mylapore Mess
In Mylapore, messes such as Rayar Mess and Mylai Karpagambal are popular for authentic South Indian Cuisine. These messes will be much crowded with locals and tourists analogously. Quintessential vegetarian 'full meals' trencher, which can come with as many as a dozen dishes will be traditionally served on banana leaves.
Citi Centre Mall
The Citi Center Mall in Mylapore's RK Salai is one of the oldest and most attractive shopping malls. It provides exciting entertainment and package of joy through INOX theatre, Roof Top Food Court, KFC, McD, Landmark, etc.
The Poker Bar
Though Mylapore is famous for its rich tradition, it doesn't mean that it has no nightlife choices. The Poker Bar brings you exotic cocktail mixtures and cool evening beers.
Hotel Shelter
Another significant Landmark in Mylapore is Hotel Shelter. It's well known for its Hospitality and Cleanliness. The Multi-Cuisine Restaurant offers you a variety of dishes. We strongly hope that you've got an idea about Mylapore. Happy Exploring.