A long and inseparable relationship is existing between spirits and cricket.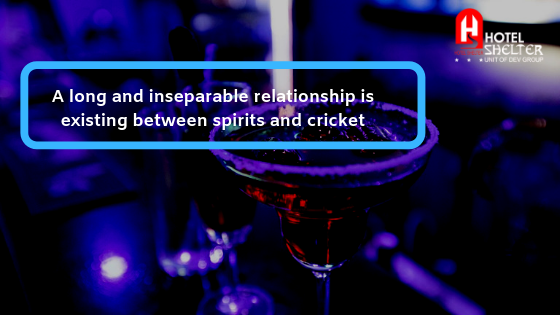 We could recognize that leading liquor firms like Kingfisher, Sandpiper, McDowells shifted into sponsors for most of the IPL cricket teams and indeed for International Cricket matches. You could have observed many Indian cricket players endorsing liquor brands and their periphery products.
Captain of Indian Cricket team, Virat Kohli endorses the Royal Challenge whiskey and Chennai's favorite 'Thala' MS Dhoni acknowledges McDowell's label products. Harbhajan serves as a brand ambassador for Royal Stag and has been a fun rivalry to Dhoni off ground.
You could recollect the scene that Australian captain Smith expressed his interest to Rahane for a beer with the Indian team, after losing the series as 2-1 against India. It grew viral on social media following an Australian journalist published this thing on twitter.
Cricket spectators and analysts cited this as a positive note to end the series without any distress.
Once India toured West Indies for playing 4 test matches, young players Rahul, Stuart Binny and Umesh Yadav have taken pictures with beer bottles in hand and shared on social websites during their leisure time. It became viral and glorified by many cricket fans & youngsters and gained criticism too for some reasons from a few temperaments.
Usually, easing around the table, guzzling booze and chit-chatting with friends at the bar will take ourselves relieved from the stressful living.
Domestic liquors remain an all-time choice for our comrades in the counters. Some imported liquor brands like Johnny Walker, Black Label, Chivas Regal, Absolute vodka, Glenfiddich, Remi Martin, Hennessy, etc also share an influential role in luring the admirations of many. 'Cricket' and 'Party'a are fraternized to that extent to attain recognition as the most used terms in social media during the IPL cricket season. More than at home, Cricket Lovers appreciate watching cricket with their gang in public places like TV showrooms, galleries and most commonly in Resto-bars. Nowadays nearly all cafes and bars are exhibiting cricket matches live, throughout IPL, T20 and world cup seasons.
Watching world cup matches on a big screen and cheering up our Indian team with buddies is awesome. Nothing can give you that class of ultimate satisfaction.
Come on India. Celebrate this world cup season along with your friends @ The Poker Bar. Reserve your table now for exciting cricket offers.