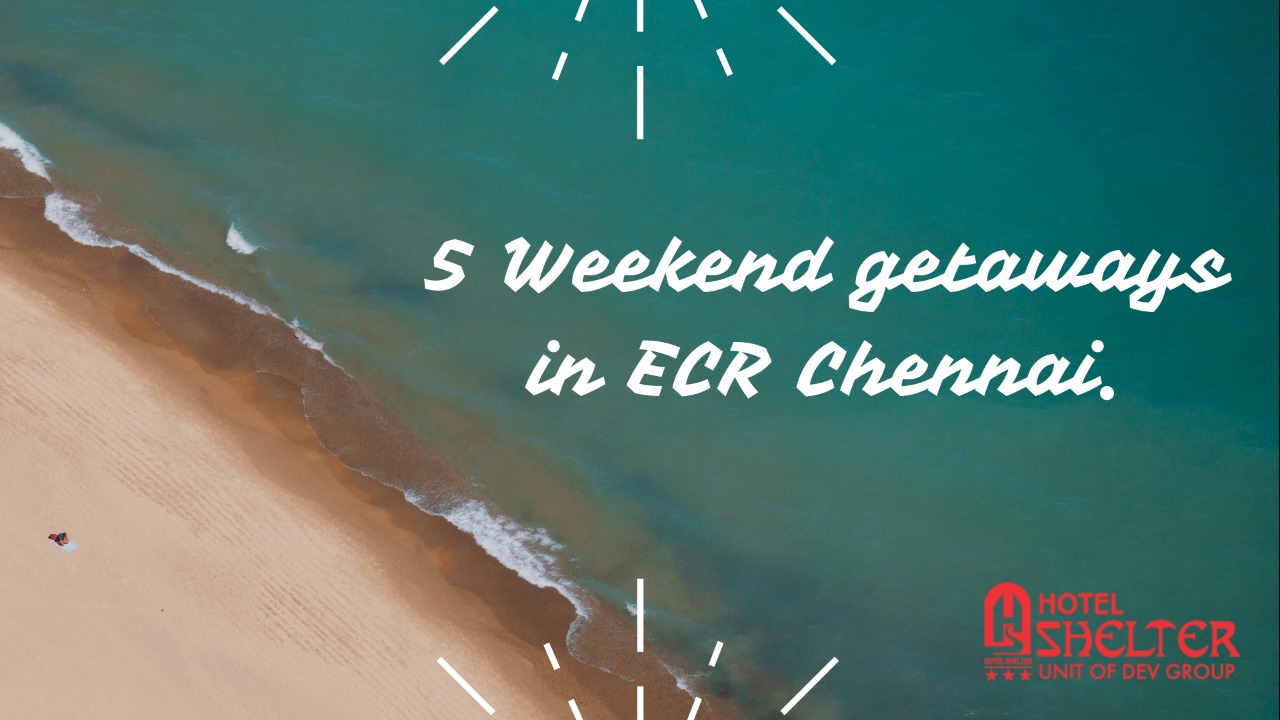 Top 5 Weekend getaways in ECR Chennai
There are several attractive weekend destinations in South Chennai, notably in East Coast Road (ECR), that have so much to offer for the residents as well as the visitors. We need not worry as many places are in North and Central Chennai, ECR is more fascinating and quickly accessible presenting a complete set of adventure, celebration, vacationing, and feast. So if you are in Chennai and awaiting to explore some joyful and exciting places in ECR, here is the list of top 5 weekend getaways in East Coast Road.
Top 5 Weekend Getaways in ECR, Chennai
1. Thiruvanmiyur Beach
Thiruvanmiyur beach takes you away from the regular boring mundane lifestyle, through its melodious streams and refreshing breeze. The chill waves soak our feet giving us a sense of harmony. Thiruvanmiyur Beach is situated in the Thiruvanmiyur area of Chennai and we can quickly reach the place through East Coast Road. This beach indicates the starting point of the beach which stretches to Mahabalipuram. Several Multi-Cuisine Restaurants near the beach sum up to the attraction for people who visit the beach. This is one of the popular hangout places for Chennai Residents. It is further the cleanest beach with fewer crowds. This beach occupies less width, making the visitors walk shorter to reach the water. The parapet wall for sitting is so perfect for chit-chats and enjoyments presenting the view of the sea. Few Stalls are also open in the evening time selling snacks and water.
2. Muttukaadu Boat House
Muttukadu is a small settlement which is much popular for its backwaters, palm grooves, and green environment. Located approximately 36kms from Chennai, Muttukadu is a perfect backwater spot to spend a sluggish weekend. The backwaters of Muttukadu have been improved as a scenic cinch point and a center for water sports. The February month attracts the attention of global water sports lovers through "Windsurfing Regatta" conducted every year in Muttukaadu. The boathouse in Muttukadu not only gives major activities like Boating and windsurfing but also inspires adventure lovers with Kayaking, Canoeing, etc. Training programs and Classes are organized for youths and enthusiasts who are interested in windsurfing and other water sports activities, that are extensively publicized here. Muttukadu is well connected by all sorts of public transports in the city. Located right on the East coast road, Muttukadu cannot be avoided by any traveler while moving on the East coast road.
3. Kovalam Beach
The crescent-shaped beach is situated merely 25 kilometers from the city. Kovalam beach is a portion of the Kovalam fishing village on the shores of Bay of Bengal, in the East Coast Road next to Muttukaadu Bridge on the way to Mahabalipuram. It is also called as "Covelong" beach that offers beautiful views.
Recently, mid-sea diving and windsurfing have turned into favorite sports on the sea coast along this beach. It is one of the limited places in India where windsurfing is possible. We can also enjoy boating here. In September, they conduct annual music and surfing festival on this beach every year, bringing an enormous group of beach sports enthusiasts. From Fried fish counters to fun game zones, you can find extensive stalls in Kovalam.
4.Mahabalipuram
Located approximately 55 kilometers from Chennai, Mahabalipuram, also recognized as Mamallapuram, is a classical town steeped in early history, art, literature, culture, and architecture. Owning to the significant fame that existed through the Pallava Dynasty of the 7th century, the whole hamlet is a gallery of historic temples, monolithic sculptures, and archaic artifacts. The under two-hour drive along the East Coast Road is a magnificent way too with a lot of spots to see along the way. The best places to visit in Mahabalipuram are Shore Temple, Pancha Ratha, Varaha, Mahishasurmardini and Krishna Cave Temples.
5. Shelter Beach Resorts
Located left on the East Coast Road, Shelter Beach Resort extends easy accessibility to the visitors en route to Mahabalipuram. Shelter Beach Resorts is very well known for its luxury and comfort. The rooms provided here are designed in such a way that the visitor can experience the amazing sunrise view through just moving the curtain. The resort brings a variety of adventures such as Kids play area for Children, Lawn for Team Building Activities, Private beach for couples, Swimming pool for families and much more fun to the visitors. The Uppu Kari Soru and Aranmanai Kozhi are the must-try dishes in the Samudra Multi-Cuisine Restaurant. The Resort brings out the feeling of sports enthusiasts with outdoor games like Cricket & Volleyball and Indoor games like badminton, chess, carrom, etc. Passionate riders can access All-Terrain-Vehicle (ATV) nearby to enjoy an awesome ride on the beach. The Resort offers a clean and hygienic environment with 24/7 room service.
Don't miss the marvelous adventure and fun. Plan your weekend getaway with Shelter Beach Resorts.For booking, please contact: +91 87544 36333 +91 98403 33112.